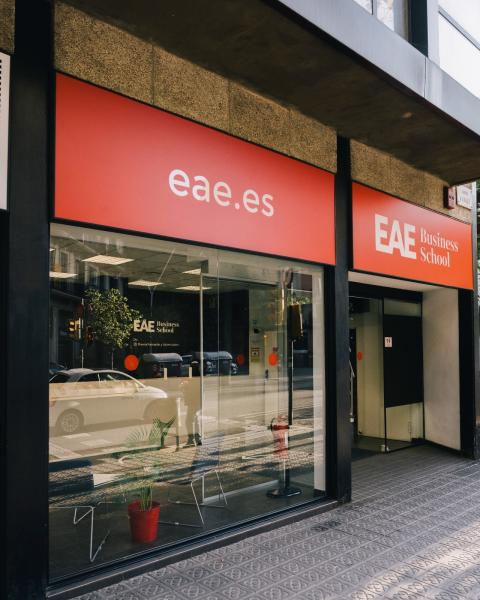 Quality and Accreditations
Internal Quality Assurance System
The guarantee of quality given by EAE's Internal Quality Assurance System (IQAS) forms a key part of our School's commitment to social responsibility, fully aware of the context of globalization of the employment and university markets in which we operate.
Against this backdrop, through the IQAS, EAE strives to establish a governance model that reliably responds to the challenge of achieving accountability, transparency and uncompromising, rigorous quality.
The essence of our mission involves formulating our own unique way of serving the students, which we achieve not only through the set of services and commitments that we enter into with them, but also and most importantly by developing a mindset focused on quality and continuous improvement as an institutional pledge based on a commitment to transparency throughout the public service that we provide.
Internal Quality Assurance System
The EAE University Centre is an educational institution specializing in tuition programs that lead to different official and institutional Master qualifications, and official Bachelor Degrees, in the field of business administration and management.
The Quality Policy and Objectives of the EAE Barcelona University Centre are set by the Management Board with a firm commitment to ensuring quality, continuous improvement and accountability to stakeholders.
This commitment to quality requires constant improvement in all the School's areas of activity, taking into account the demands of the learning community and the evolving training needs of the society of which it forms part, in order to contribute towards its progress and wellbeing.
Based on the Quality Policy, EAE has implemented an entire Internal Quality Assurance System, with the following objectives:
Providing education designed to achieve excellence and guarantee a range of tuition programs aligned with the needs and expectations of the learning community and society in general.

Promoting awareness, understanding and dissemination of the Quality Policy among all the stakeholders.

Achieving a commitment to continuous improvement, proposing and executing the actions required.

Ensuring that the Internal Quality Assurance System is regularly reviewed and updated.

In short, the EAE Barcelona University Centre committed to ensuring that all its administrative management bodies, lecturers and administration and services staff are involved in attaining full quality as a shared goal that leads to achieving excellence in the course of providing its educational services.
APPROVED BY:
José Luis Fernández
General Director of EAE Business School
8th May 2019
The aim of the Quality Manual is to give an overview of EAE's Internal Quality Assurance System, designed in accordance with the evaluation model of the AUDIT program, which, in turn, is aligned with the quality assurance criteria and guidelines of the European Higher Education Area (EHEA).
EAE's Internal Quality Assurance System specifies how the School improves the quality of its qualification programs, their planning and implementation, and the learning results, as well as the teaching and research staff and administration and service staff.
The different chapters of the Quality Manual set out procedures giving a more detailed description of the mechanisms in place at EAE to guarantee the quality of its tuition programs.
> Quality Manual of EAE Barcelona University Centre
The following processes are derived from EAE's Internal Quality Assurance System for its university qualifications:
PGC01 - Definition and review of the Quality Policy and Objectives
PGC02 - Design, implementation and quality assurance of tuition programs
PGC03 - Student entry profile and acquisition
PGC04 - Access, admission and enrolment
PGC05 - New student welcome, support and orientation
PGC06 - Tuition implementation
PGC07 - Complementary academic activities
PGC08 - External internships
PGC09 - Mobility management
PGC10 - Tutorial Action Plan
PGC11 - Management of teaching and research staff and administration and service staff
PGC12 - Management and improvement of resources and services
PGC13 - Public information and transparency
PGC14 - Collection, analysis and evaluation of results
PGC15 - Management of cases of non - conformity, corrective and preventive measures
PGC16 - Documentation and record control
PGC17 - Internal audits
More information:
> IQAS processes at EAE Barcelona University Centre
> Supervisors of IQAS processes at EAE Barcelona University Centre
EAE gives all stakeholders access to the results achieved by applying the Internal Quality Assurance System.
Every year, EAE publishes an Annual Report that gives an overview of the key developments and events that have happened at EAE Business School. This report not only shows data related to EAE's academic activity, but also the School's key achievements over the last twelve months, the activities organized, the research conducted, our students' employability and even a chance to get to know some of the faculty members.
> Annual Report 2018
> Annual Report 2017
> Annual Report 2016
> Annual Report 2015
> Annual Report 2014
> Annual Report 2013