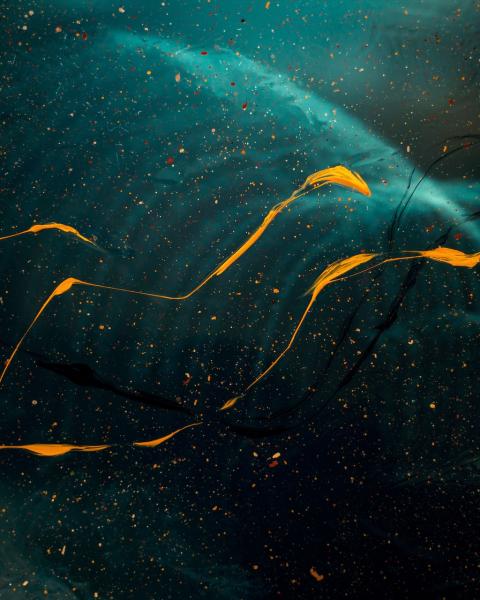 FAQs
Do you have doubts? We've got answers.
These are the most frequently asked questions from interested students and future EAE students on studying in Barcelona and at EAE. If you have any doubt about admissions, financing, scholarships or our programmes that are not listed here, don't worry: just get in touch with our department of academic advisors.
Official Degrees 
Official or university degrees are degrees that are accredited by the Spanish Quality and Accreditation Agency (ANECA) and regulated by the Royal Decree 822/2021
It's an advanced academic education with a specialized or multidisciplinary character, designed for academic or professional specialization or the initiation in research activities
That's why official degrees grant access to doctoral studies.
Official degrees are valid throughout Spain and in all universities that are part of the European Higher Education Area (EHEA), which means that the degree will be recognized in any country within the European territory.
Official degrees undergo external evaluation processes and end with inclusion in the Registry of Universities, Centers and Degrees (RUCT).
Institution-Specific Degrees 
Institution-specific degrees are qualifications designed and taught by an educational institution according to their own criteria. They can follow the curriculum they deem appropriate thanks to the power of these centers to create their unofficial degrees.
That's why institution-specific degrees don't grant access to doctoral studies.
Institution-specific degrees have a more professionalizing character, oriented towards the job market.
They're focused on innovative and changing areas to respond in a more agile way to the demand for skills and competencies in the current job market. Their goal is to train professionals for their insertion or promotion in the labor sector. Due to the prestige of the institution that offers them, they're highly valued in the national and international job market.
They carry professional recognition based on the prestige of the institution, program content, faculty and feedback from former students.
They meet the demand for specialized education in fields of knowledge that are generally not covered by official degrees.
They are a tool for enhancing one's resume, professional growth, updating knowledge and lifelong learning.
EAE is a university centre that's affiliated to UPC. Students receive EAE's degree plus the degree from the university to which it's affiliated to — in our case, UPC.
If it's an official degree, regulations state that only 9 credits (ECTS) can be recognised. In the case of degrees from university centres there's no limit.
A university master's is an official degree, while a master's is a degree from a university centre.
The number of students vary depending on the programme and the modality, and it can go from 25 to 55, approximately.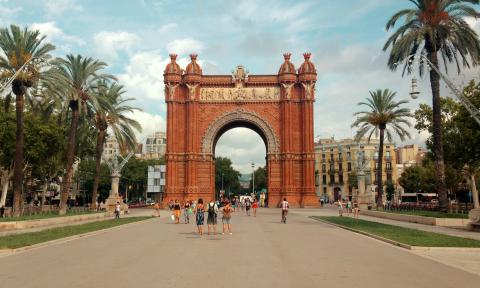 Barcelona is currently among the 25 best cities in the world in which to pursue your studies. It's an avant garde European city that has beaches and a nice weather all throughout the year, a Mediterranean based gastronomy, an amazing cultural and leisure offer and a history that combines tradition and innovation.
Being the multicultural city that it is, you will encounter a widely diverse environment, open and fun, in which to learn and discover new ways of thinking and doing. Also, both the city and the country offer a free universal public health system, with numerous health centres and hospitals that count with excellent professionals.
And, of course, it's impossible not to mention the growth of new innovative companies. In recent years, start-ups have found their way in Barcelona, attracting a great number of professionals from all over the world and making it possible for students to take the leap towards the professional world. Thanks to the support given to digital talent through collaboration and the interconnectivity of companies, as well as the boost to key infrastructures, such as technological centres, and the advanced 5G network, make Barcelona the 5th most important hub for the digital industry in Europe and the 4th most important European city for investment training.
Life at EAE and Barcelona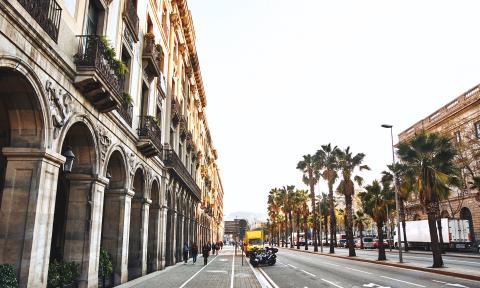 We know that landing in a new city may be a bit overwhelming. That's why we've prepared this little survival guide for you to have an amazing experience. The only thing left to do is to enjoy our wonderful city!
Barcelona combines the best of two worlds in one city
On the one hand, it has its more professional, creative and innovative side. During the day, it beats to the rhythm of its intense work activity, with the typical coming and going of an European metropolis. On the other hand, it's a city that knows how to enjoy its leisure time, showing its more adventurous, relaxed and fun side. The nights and weekends are the perfect time for leisure, both for people looking for chill plans as well as for those who look for more intensity and parties.
Its multicultural wealth and its openness to the world keep the city in a continuous state of interrelation and connection. Its geographical location allows you to have everything nearby and at hand's reach.
Although walking is always one of the best ways to discover a city, moving around in Barcelona and its metropolitan area is very easy thanks to a large and quick network of public transportation: metro, tram, buses and trains; a public bicycles service (Bicing) and more than 200km of bike lanes; a fleet of taxis that includes hybrid, electric and natural gas vehicles (that you can also request through apps like Cabify, Free Now or Bolt); and electric vehicle services that are good for the environment (the electric motorcycle is the most used individual means of transport in Barcelona). As a student, you can get all sorts of discounts on public transportation in order to reduce the costs of your trips and not have to worry about mobility during your stay in Barcelona.
Taking into account how close they are to EAE's Campus, the following areas stand out in Barcelona:
1) Eixample (La Dreta, la Nova Esquerra i l'Antiga Esquerra)
Modern Barcelona was born in L'Eixample, whose urbanistic project was developed by Ildefons Cerdà, who gave it its magical and unique design. The central part, La Dreta de l'Eixample, was the neighbourhood of the bourgeoisie, who gave it its own style: modernism. It's a quiet district with a nice vibe, made up of residential neighbourhoods surrounded by commercial activity, and it's one of the most comfortable and better connected areas to live in Barcelona.
2) Sant Antoni
The whole neighbourhood revolts around one of the biggest and most visited markets in Barcelona. Surrounded by Parallel Av. and Gran Via de les Corts Catalanes on one side and Sant Pau and Sant Antoni streets on the other, it's one of the smallest and most highly populated neighbourhoods of Barcelona. Sant Antoni has more than 37,000 inhabitants in less than a square kilometre. Due to its small surface, neighbours get to know each other more easily; besides enjoying its multiculturality, you can enjoy a close relationship with your neighbours. 
3) El Poble-sec
It's a neighbourhood of contrast. There, you will find the legacy of leisure of the Barcelona of the 1960s, represented by El Molino, and tons of new international food markets. It's also a neighbourhood known for the classic Barcelonian welcome. People who inhabit Poble Sec and walk its streets daily are quite diverse, from all over the world. They came looking for the opportunities that the city has to offer and they gave back an even greater multicultural wealth. Some of its highlights are Blai St., known for it countless pintxos bars, and Parallel Av., which has some of the most important theatres in the city (Teatre Victòria, Teatre Condal, Sala Barts, Teatre Apolo…)
4) Sants
This village turned to neighbourhood was centre of attraction for industrialisation, which would extend to the Marina area, for its proximity to the port, but also due to the creation of a strong commercial dynamism centre, which today are Creu Coberta-Carretera de Sants and the Sants and Hostafrancs markets, which have more than 100 years of history. These elements are the core of one of the neighbourhoods with the greatest spirit and tradition in Barcelona. Besides being a commercial space, it also has a social fabric that lets you enjoy your stay in Barcelona with peace and fun.
Montjuïc Hill.
A hill that's much more than nature. Start your tour admiring its Magical Fountain. Next, visit the Mies van der Rohe pavilion or the Joan Miró foundation. Stroll down any of its wonderful gardens: Laribal Gardens (with its beautiful cascade); The Palace of Albéniz; the Mossèn Cinto Verdaguer gardens, the Joan Brossa gardens, and even the Botanic Garden. Take a break at the National Palace terrace, home to the National Art Museum of Catalonia, which has works of every discipline (sculptures, paintings, objects, drawings, engravings, posters, photographs and numismatics) of catalan art, from Romanesque to mid 20th century. Grab a bite at the Caseta del Migdia with Barcelona at your feet. Especially, the icing on the cake, visit the Castle, a fortress that, after the Civil War, became a military museum.
CaixaForum
This old textile factory was designed by Puig i Cadafalch and is one of the masterpieces of Modernism, currently dedicated to culture and knowledge. During much of the last century, it was used as a police stand and it was later abandoned. La Caixa Foundation bought it and rebuilt it, keeping the original brick structure. The lower part was excavated in order to create the modern entrance (work of Arata Isozaki), a mural by Sol Lewitt, an auditorium, a library and a bookstore. Besides permanent contemporary art collections, there are three spaces for temporary expositions.
Enric Granados St.
To the left of the Eixample, you will find this unique street that runs for 9 blocks perpendicular to the sea. It's a small oasis inside the urban plot of Cerdà: it has only one lane and it's completely for pedestrians in its last portion, as it arrives at Plaça Universitat. It's a very pleasant rout to walk or bike and enjoy the charm of the Eixample: Galleries (the Malbourough), the Margall Institute (with its blackboard wall full of art), beautiful shops (The Avant, Alianto, Au Nom de la Rose), and bars (Colmado Barcelona, La Fàbrica del Vermutillo, Cosmo) — and one of the best ice cream shops in Barcelona (Delacrem).
La Pedrera
The last secular building by Antoni Gaudí, Casa Milà (commonly known as La Pedrera) has no straight lines. From its rooftop, surrounded by powerful and mysterious warriors, you will be able to enjoy a very different view of Passeig de Gràcia. It's an amazing architectural achievement and the culmination of the architect's experiments to recreate natural forms using bricks and mortar (and ceramics and broken champagne bottles: what is known as "Trencadís"). It's a World Heritage Site and it has sea-like vibes — tangled balconies, seaweed doors, sea foam ceilings and inner patios as blue as the cave of a siren.
The Arenas Rooftop
The most interesting part of the old bullfighting arena, Las Arenas, which keeps its original facade, is its rooftop which overlooks Montjuic. On the last floor, you can also find the dome —made to celebrate fairs, musical and theatrical shows— and a variety of gastronomical opportunities. Las Arenas' bullring was turned into a shopping mall with a rooftop that has a 360º view of the city.
1) Sagrada Família Library (Carrer de Provença, 480)
If you like translucent spaces, the study area of this library is your spot. Being next to Sagrada Familia, if you choose to spend the day there, you will at least have the chance to sit on the grass and rest for a bit. If later, when it closes, you feel like you still have much to go with your studies, you can always stay at the nocturnal space that is open until 1am.
2) Dipòsit de les Aigües (UPF, Carrer Ramon Trias Fargas 25-27)
What's more motivating than working in a building created by one of the most amazing minds in the world? This architectural masterpiece, designed by Josep Fonterè with the help of Antoni Gaudí himself, is quiet, beautiful, historical and open for the public.
3) Library of Catalunya (Carrer de l'Hospital, 56)
Also known as the Sant Pau I Santa Creu Library, it's a space mainly dedicated to historians but it's open for the general public and anyone who wants to get lost inside a Catalan cultural heritage. It works as a preservation and dissemination hub for everything that is published in the country. It also has several rooms that can be used for all types of academic and professional purposes: study rooms, debate rooms, IT labs, etc. An iconic "temple" where you can enjoy a good read and concentrate while studying.
4) García Márquez Library (Carrer Treball, 219)
Barcelona's third biggest centre (3,300 m2) has recently opened its doors in the Sant Martí district. Its construction, with a lot of wood and big windows, give the place a lot of luminosity and a nordic, functional style. Specialised in Latin American literature and the only one to have a radio studio inside. It has 40,000 documents in its archive and it features 140 reading spots (sofas, armchairs, hammocks, puffs, and more) and 30 internet spots. It's different from the rest of the places since it has a sensorial space and rooms that are for group activities. 
5) Laie Library-Cafe (Carrer de Pau Claris, 85)
It's not a library per se but, if you're looking for a place that has everything you look for in a library and also food and a relaxed atmosphere, this is your best option. It has its own collection of books and its own coffee shop; perfect for grabbing a coffee, a book and relaxing. You can opt to sit quietly and study on your own or choose a table and study in groups.
1) The Beach
One of Barcelona's greatest appeals, besides its weather, are its beaches. All along Barcelona's coastline, there's a seaside boardwalk that runs through all the city's beaches: from Llevant to the north, all the way to Sant Sebastià to the south, where you will find the famous W Hotel. Every beach in Barcelona is well connected, well kept and equipped with every service. The most popular ones, thanks to their proximity, are Barceloneta, Sant Miquel and Sant Sebastià; but you can also go outside the city and find more quiet beaches to relax and enjoy the sea, for example, in Montgat. 
2) Rooftop Yoga
An open-air yoga session, more precisely, on a rooftop in the city centre, can be the perfect place to relax and find peace. Yoga Weeks (Carrer del Carme, 40, ppal. 2) brings you the opportunity to watch the city from high up while doing one hour of yoga, saluting the sun or doing asanas under the moonlight. Afterwards, you can have tea or coconut water with the other participants and, if you want to, you can bring your swimsuit to refresh yourself in the rooftop's showers. Great plan!
3) Pilates and Breakfast
At Pilates & Cake you can do pilates early in the morning and have breakfast right afterwards in the same place. Firstly, you will enjoy a 50 minute pilates session and, after that, have breakfast with friends in a little spot near the Barceloneta port. Bread, jams, fruits, cupcakes… all of it made with ecological proximity products. Perfect to disconnect and meet new people. 
4) Meditation and Party
Meditating and relaxing in a rave? Why not?! Morning Gloryville Barcelona is a completely healthy party with lots of music, yoga, massages and juices. As early as 6:30am, you can go to the Mercat de les Flors in Barcelona to go all out and start your day full with energy. It's itinerant, so you will have to keep an eye on the events they publish.
5) Parc de la Ciutadella.
There are many parks in Barcelona where you can relax or simply take a stroll. But the biggest and more famous of them all is the Parc de la Ciutadella. Besides being of historic interest, it's a big park where you can disconnect. With its 42 acres, the Ciutadella park is the favourite of most Barcelonians. Here you'll find the Zoo, the Catalan Parliament buildings, an institute, a church, a lake and a kiosk with live music. Many other activities take place in this park: fairs, markets, sports events, concerts, DJ sets, children parties, community work, and many shows of Barcelona's festivities, La Merced.
1) Aticco (Ronda Sant Pere 52, Ático)
This coworking space is perfect to carry out meetings, make new contacts, establish collaborations and be productive while studying or working. Its membership includes 24/7 access all year long, tables, meeting rooms, rooftop, printers, showers, coffee, gym and even a creative swimming pool.
2) Zamness (Carrer de Zamora, 46)
A very fashionable coworking space to take your creativity to its maximum, brainstorming or going on long study sessions. Joining this coworking space includes access to meeting rooms, a bar, a chillout space, showers and bicycle parking space.
3) Espai Born (Carrer dels Vigatans, 11)
A creative centre, located in an old bakery. It's a historic coworking space with a unique charm. It was specially designed to foster and boost imagination and the development of new projects and opportunities. The space has meeting rooms, infinite opportunities for networking, a library, a recreational room, a kitchen and much more.
4) Work Café Santander (Avinguda Diagonal, 550 y Passeig de Gràcia, 54)
An innovative space both for Santander clients and for those who are not. Bank, coworking space and cafe, all in one place. It's a collaborative space open to everyone where you can work, connect to the internet, carry out meetings and events and, of course, conduct financial dealings. You can do all of these while enjoying freshly made coffee and signature pastries.
5) Imagin Café (Carrer Pelai, 11)
Art, culture, design, music, sustainability, gaming… All of these in a space where you can always be up to date with the latest trends, express yourself and even enjoy yourself in company or alone. One thing, though: in order to get in, you must be a member of Imaginbank.
Barcelona is uniquely located between the sea (the Mediterranean) and the mountain (Collserola), which makes it easy for you to make all types of plans. And thanks to its nice weather, you can do anything almost all year long.
Besides being able to enjoy plans out in the open (going to the beach, practice some sport, go on excursions, organise picnics, visit viewpoints, go on strolls through the parks, walk around the city, etc.), it's a city that's especially prepared for culture, leisure and gastronomy.
Its cultural offer (museums, theatres, galleries, cinemas, music…) is varied and extensive, as is its gastronomy. Catalan cuisine is known to be among the most delicious and creative in the world, with some autochthonous restaurants among the best in the world according to the Michelin Guide. Barcelona is also a city full of bars and restaurants where you can enjoy some tapas, Mediterranean food and a good time with friends.
We are the department in charge of assisting and guiding you with any administrative enquiry or process before, during and after your master's course, such as verifying your access documentation and issuing certifications related to the master's or the request of your degree.
EAE Barcelona's Office of the Academic Secretary is located in our new headquarters at Calle Aragón, 55.
Our business hours are:
●     Monday to Friday from 09:00h to 18:00h.
●     From June 15 to October 15, Friday hours are 09:00h to 14:00h.
You can also contact us by phone (+34 93 227 80 90) or by email ([email protected] to request certificates and [email protected] for other requests)
The Access Documentation Dossier is made up of all the documentation relative to your previous academic studies, which grant you access to the programme you've signed up for.
In order to create your Access Documentation Dossier, you must send every document in PDF format to [email protected] before the start of the programme. The department will check if the documents are correct and complete. During the first 15 calendar days since the start of classes, you will have to submit the originals for verification in the hands of our team at EAE Business School Barcelona's Office of the Academic Secretary.
Passport or ID.
CV
Motivation Letter
Picture
Students with European Union university degrees:
Original university degree (or certified copy) and sworn translation to Spanish (if required).
Personal learning record (or certified copy) and sworn translation to Spanish (if required).
Students with university degrees from other countries:
Original university degree or certified and authenticated copy with the Hague Apostille, and a sworn translation into Spanish if applicable.
Personal learning record or certified and authenticated copy with the Hague Apostille, and a sworn translation into Spanish if applicable.
A certificate from the university in which it states the completed degree that grants access to an Official Master's Degree, if you are applying for one, and a sworn translation into Spanish, if applicable.
Academic Complementary Courses. Requirements regarding previous studies:
For official programmes it may be necessary to take academic complementary courses depending on previous studies. Academic complementary courses are assigned to each student and can be recognised if they have been taken before or if they have a broad professional experience in the field.
Language Related Requisites:
The language prerequisite is assigned to each enrolled student depending on their nationality or language in which they took their bachelor's degree.
It's a document issued by the University in which you've done your bachelor's and it shows that your degree allows you to continue with postgraduate studies. In this case, the Hague apostille is not necessary. A sworn translation is required if the document has been issued in a language different to Spanish or English.
You will have to send an email with all the documents in the requested format before the start of the course. You will then present the originals in the Office of the Academic Secretary during the first 15 calendar days since the start of the course.
No. The only valid copies will be those certified by the University in which you've done your studies or by the Spanish consulate in your country. Those copies must be presented at EAE Business School Barcelona.
Yes, provided that you have done your previous studies outside the European Higher Education Area. In that case, you will have to certify it through the Ministry of Education and Foreign Affairs of your country, in order to get it certified at the Spanish consulate of your country afterwards. The apostille must come from the same country where you've done your studies.
No. They only serve the purpose of validating that the documents sent by email match the originals presented to the Office of the Academic Secretary.
If the period for presenting and validating the original documents to the Office of the Academic Secretary is over and you haven't done it, we understand that you are not choosing to do a double degree and, therefore, once the master's is over and passed, you will only have access to EAE Business School's own degree.
Bachelor students who still have to finish their thesis will have a conditional admission: they will access and enrol themselves in a University Master's but they won't be able to get the Master's degree if they haven't previously completed their Bachelor's.
In Spain, official Master's degrees are regulated by the Ministry of Education. Students must have an official bachelor's degree and it must be duly certified if they have done it in a university outside the European Union.
As for a school's own degrees, they are more specific postgraduate learning experiences of a higher level as part of an academic offer inside these sets of studies. Its goal is to get students to acquire advanced education and training, specialised, multidisciplinary and professional. Under no circumstance will they grant access to official doctorate studies.