EAE Barcelona's Executive MBA boosts your professional development whether it's inside a company or as an entrepreneur.
You will enhance the development of executive, analytical and leadership skills and you will immediately apply what you learn in order to quickly improve your executive competence.
Adapt to a world in constant evolution and a dynamic corporate environment, practise international networking surrounded by an international community of students, professionals and leaders with a strong commitment to collaboration as a driving force for progress.
It's a transformative experience for executives and it's designed for professionals that are looking for up to date knowledge on all the areas of a company from a role of management or leadership.
Get ready to lead high performance teams with a global and innovative vision and to develop skills for team work, motivation, communication, business ethics and social responsibility.
Your future is yours alone. The programme includes personalised assistance from a certified coach. Take this chance to develop your full potential and grow as a professional.
Become part of an unmatched hub of professional contacts. Complement your academic education with everything you can get from shared experiences and knowledge. During the year of the programme you will cement personal and professional relationships with your classmates, professors and the professionals from our collaborating companies.
This programme includes a series of independent monthly workshops in which you will develop personal and leadership skills to become a better executive and that will help you reach your professional and personal goals.
You will enjoy a weekend in a hotel in the mountains, all included, where you will be able to work on your executive skills, share an experience with high performance teams and boost the group's networking.
Work on an entrepreneurial project on the United Nations' SDGs and compete with other Business Schools from around the world to get a chance to participate in the great final in the US.
Current Socioeconomic Context - 5 ECTS
• Economic environment
• Financial System and Markets
• Fiscal and Legal
• Sustainability and Environment
• Legal Trends
Marketing and Commerce in International Environments - 5 ECTS
• Marketing Strategies
• Communication
• Digital Marketing & E-Commerce
• Sales Management
Intellectual Capital and Talent Management - 5 ECTS
• Human Capital Management
• Cross Cultural Management
• Diversity and Inclusion
• Change Management
Executive Skills - 5 ECTS
• Residential Weekend
• Emotional Intelligence
• Disruptive Leadership
• Soft skills
• Decision Making & Negotiation
• Communication Skills
Strategic Management & Digital Transformation - 5 ECTS
• Competitive Advantage
• Strategy
• International Strategy
• Business Game
• VUCA Environments and Digital Ecosystems
• Disruptive Technology for Business
• Business Performance Analysis and Emergent Technologies
• Sustainability and Circular Economy
Finance for Decision Making and Management Control - 5 ECTS
• Investments and Financial Decisions
• Financial Markets and Start-Ups Ecosystems
• Financial Risk Management
• Fusions and M&A
• Financial Planning and Control
• Budget Management
• Accounting
Analytics from an Industry and Client Perspective - 5 ECTS
• Socioeconomic Context for Big Data
• Business Strategy and Big Data
• Infrastructure and Components of Big Data
• From Big Data to Business Analytics
• Tech Map and Systems
• Data Strategy & Data Analysis
• Reporting & Dashboards
• Business Intelligence
• Google Analytics
Transforming and Competing from Operations - 5 ECTS
• Descriptive, Predictive and Prescriptive Analytics
• Transforming the Supply Chain
• Robotics & Process Automation
• Artificial Intelligence for Operations
• Demand forecasting
Project Management in the Digital World: Landing the Strategy - 5 ECTS
• Digital Business & Innovation
• Agile Project Management - PRINCE2 y SCRUM
• Growth Hacking
• Design Thinking
15 ECTS
It's not just the research paper you need to do in order to get your master's degree — it's the right time and the right place for you to combine your academic experience with your professional ambition, personal vision and your creativity. It's your chance to put everything you've been learning into practice and to work in order to get to where you want to be.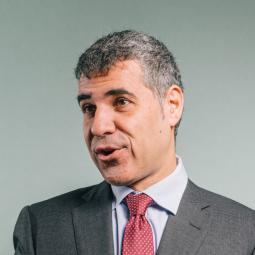 José García Callejas
Consultant and Agile Coach in the department of Tactical & Operational Transformation of Capgemini España. More than 18 years as Director of Export and Marketing in companies of the FMCG industry. Marketing and Sales Director at Sensalia, S.L. Founder of Charge Two Grow. Consulting, Organisational Coaching and Training. Executive Coach, Certified by AECOP (Spanish Association for Executive and Organisational Coaching).
Double Degree: EAE and UPC
EAE Business School's own Executive MBA degree and Universidad Politécnica de Catalunya's (UPC) own Continuing Education Master's degree in Executive MBA.
Expert and personalised advice on the most highly demanded profiles in the marketplace. We guide you professionally based on your profile and goals in order to help you choose the path with the greatest professional impact.
WE'VE GOT YOUR BACK FROM EVEN BEFORE YOU GET STARTED
1. Initial Information/Admission Request
Once completed, we'll assign you one of our expert advisors that will get in touch with you.
2. Interview with the Admissions Department
We'll evaluate your professional and academic profile and, together, we'll assess your eligibility for advancing towards a Master's level based on your professional goals.
3. Formal Presentation of the Admission Form:
You will have to send us the following documentation, which we'll analyse and verify in order to compose your admissions report:
-Updated CV
-Motivation Letter
-Academic and/or Professional Letter of Recommendation
-Last/Ongoing Degree Certificate
-Admission Test (if required)
-Language Certificate (if required)
4. Admissions Committee
Your advisor will be in charge of defending your application in front of the Committee.
5. Process Resolution
We'll inform you on the result of the process.
6. Booking and Assign You a Spot
You will have 3 to 5 days to make the payment for the inscription.
Employment
There are many professional paths you can choose and we'll be there, right next to you, no matter which one you choose
As a student of the EMBA, you will get a tailor-made career plan from our Careers department and our Entrepreneur department, with personalised services for academic training and guidance that will multiply your professional opportunities and extend them to any country in the world.
The EMBA Path will allow you to take part in different sessions and meetings with headhunters and will provide you with a prolific network of contacts.
· CEO Chief Executive Officer
· CMO Chief Marketing Officer
· CFO Chief Financial Officer
· COO Chief Operating Officer
· Business Manager
· Strategic Manager
. General Manager
Where do EAE students work?