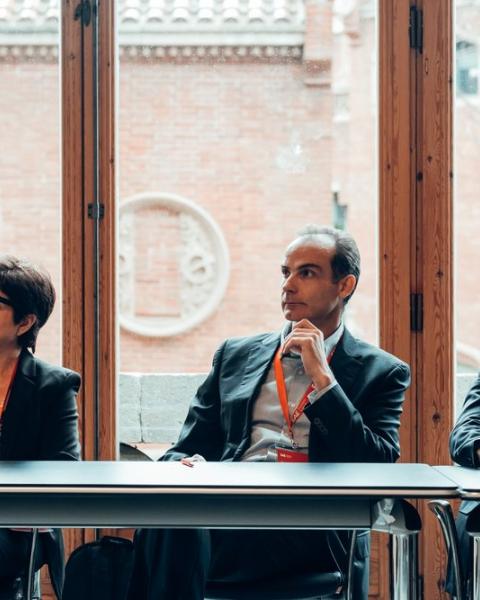 Sharing experiences to maximize opportunities.
Within the framework of our constant mission to train professionals capable of sustainably leading organizations in all areas, we have created the EAE Business School Advisory Boards. This structure gives our board members the opportunity to exchange and share knowledge and experiences with leading executives, which we are convinced will enable us to continue improving the training we offer day after day. At EAE, we strive to transmit applicable, up-to-date knowledge through our methodology, which places the student right at the heart of the activity, with an integrated approach to the academic side of the program and enriching the students' experience outside the classroom. This continuous evolution requires us to keep growing and enhancing our activity every day, a challenge that involves constant academic innovation, which we provide to both students and the international business and academic community.
To grow, you have to surround yourself with the best.
EAE Business School's Advisory Boards are made up of executives from leading companies. The main objective of this governing body is to advise and accompany the School in drawing up the guidelines for our programs and helping us keep them constantly updated, thereby ensuring the quality and innovation of our educational community. The board members' knowledge and vision give us the market orientation we need in a constantly changing scenario. Thanks to their specialist insight in each of the different sectors, they connect EAE's management team and faculty directly to the reality of the business world, helping us identify the knowledge and skills that new professional profiles require. As well as applying their expertise to different topics of discussion, the board members are in continuous contact and interaction with our educational community, taking part in various initiatives between the School and companies
7 Advisory boards
+50 corporate members
Leading Professionals from Spain and Latin America
One role, one purpose.
The Advisory Board members play a key role in advising the School, as leaders in different sectors and Alumni members in some cases, on key issues that affect the future development of EAE Business School's educational programs, taking into account the current ever-changing context. EAE Business School's Advisory Board focuses on providing academic guidance primarily to ensure that the academic content, research and portfolio of programs keep fully relevant in the field of higher education, aligned with the needs of the environment and the professional market, thereby preserving the School's reputation, quality and excellence.
We listen
We build relationships
We work to keep moving forward